QMS365 is a simple, easy to use Quality Management System software built by a team of healthcare quality experts on the framework of NABH and  ISQua quality bodies.
QMS365 streamlines and monitors your Quality management program consistently and predictably. It offers centralised management platform availing complete transparency and accountability to meticulously monitor the NABH accreditation implementation program to have a clear insight into each department Quality control process.
Embed the culture of quality and mitigate the regulatory risk by helping your organization comply with requirements and standards.
QMS365 was purpose-built focusing on current quality practices in healthcare giving more focus on overheads, time and effort required to manage and monitor Hospital accreditation standard requirements.
QMS365 Features Overview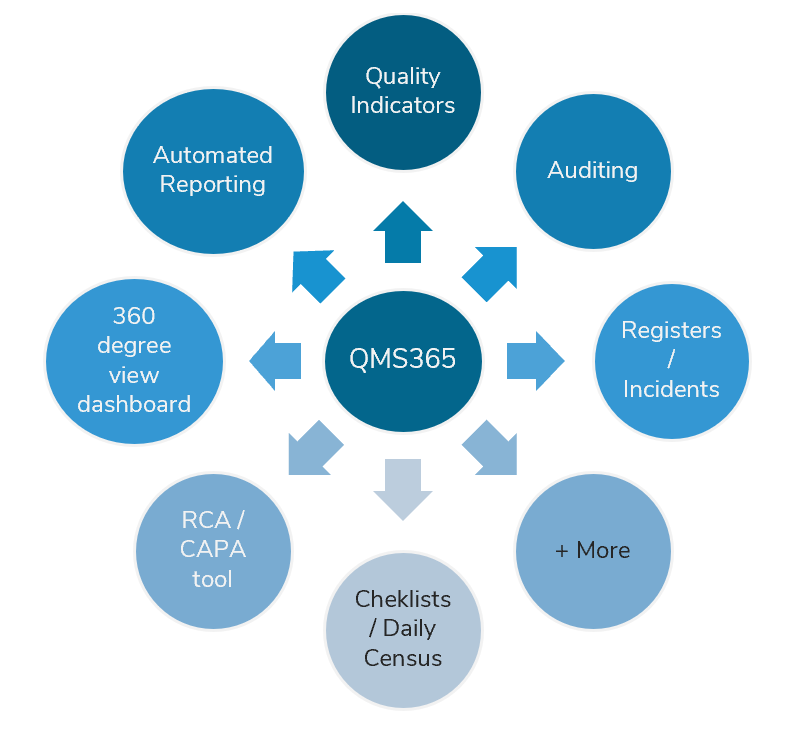 Some of the features and their benefits of QMS365 includes
HCO 5th Edition Standard:
Seamless migration from 4th Edition to 5th edition standards for final, surveillance and re-accreditation assessments.
Virtual and Hybrid Assessments:
QMS365 helps your organization to be ready with all the NABH requirements by organising all the compliance documents with easy access and present the evidence during assessments.
Incidents, RCA / CAPA:
Never miss an incident. With our scientific analysis tool identify the root causes of faults, failures or problems and create corrective and preventive (CAPA) action plan and evaluate to prevent reoccurrences of similar incidents.
Auditing:
User-friendly Online Audit tool to perform department, internal and subjective audits in the hospital using prebuilt checklists using mobile/tab. Upload evidence, add observations and view visual analytics report when the audit complete.
Reporting Dashboards:
Data driven visual Analytical Dashboards and Insights for 360-degree view of Quality program implementation.
Documentation:
Store, access and share all kinds of departments documents such as policies and procedures, manuals, checklists, flowcharts, org charts, training materials to confined departments and control the distribution and versioning.
Committees:
Manage required committees, members, schedule meetings, and maintain MOM of committees.
Licence and certificate tracker:
Central management of all regulatory, statutory licences and certificates, get reminders for renewals.
Registers and Daily Census:
Replace your paper, Excel or Word-based data collection with simple, intuitive online forms to save incredible amounts of time and maintain higher data accuracy.
KPI'S:
Benchmark and monitor department quality indicators performance and measure the progress and monitor trends over the period.